E-Mail Phishing
Phishing is a scam that is meant to steal your identity, usually to gain access to your finances, whether that be your bank account or your credit. Sometimes they are trying to get information like your social security number, birth date, etc. For example, the scammer might want your PayPal information so he can clean you out. The e-mails that the "phishers" send out often appear to be very sophisticated and will even have the logo from the company they are pretending to be. These emails usually look as if they came from a bank, mortgage company, credit card company or some other company that deals with money. Usually, the message you get will claim that your account has been compromised in some way and if you don't do as instructed your account will be closed. This is meant to get you all nervous and scared because we are talking about your money here! Relax, they say, all you need to do is click on this handy link here and confirm your log in information and everything will be just fine. Not really though, because once they have your log in information they are going to wipe out whatever account you just gave them access to, and most likely any accounts that you have linked to it as well. I also want to add that usually these e-mails are sent out in large numbers and do not have your actual name. They often say something like "Dear Valued Customer". However, be careful! I have received one supposedly from Yahoo that did have my name.
If you ever get ANY e-mail from anyone that wants you to click on a link or send an e-mail back to confirm information DON'T DO IT! Forward the e-mail on to the real company. Since PayPal and eBay are common "fronts" for these scams, I'm including their e-mail addresses that you should send these fake e-mails to so that they may take proper action. If you have received a spoof e-mail from "eBay" forward it to spoof@ebay.com. You can also visit this eBay page to read about their position on spoof e-mails. If you believe you have received a spoof e-mail from "PayPal" open up a separate window and sign into your PayPal account and visit this address to report it. PayPal also has a separate page about phishing and fake websites. Be careful out there!
Please remember that spoof emails can come from any "company", not just PayPal. I received a phishing email that claims to be from PayPal. I took a screen shot so that I could post it here for you to see.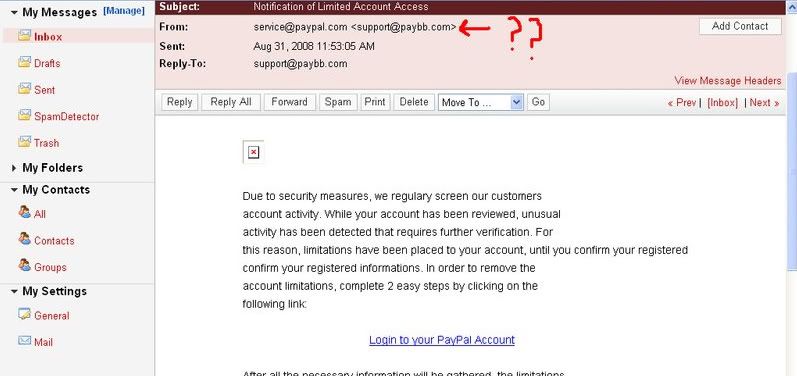 Notice the email address this email came from. The ACTUAL email address is support@paybb.com. They listed their name as service@paypal.com to trick people into thinking that's the email address and falling for their scam. Also, notice they didn't address me by name. It looks like there used to be a picture there, but it didn't work. They probably tried to insert the PayPal logo into the email. Anyway, if I had clicked that link and entered my user id and password I would have lost thousands of dollars because both my checking account and credit card are linked to my PayPal account, just like most PayPal users!