Save Money on Bottled Water with Reusable Water Bottles
This blog post really has nothing to do with work at home jobs or actually working at home, but it is about saving money. My husband and I enjoy having crisp, cold water in a bottle ready to grab when we leave the house. However, I don't like the price of bottled water at the store. Even more, I don't like the effect plastic bottles have on the environment. Some people reuse their plastic bottles, but I'm not convinced that they are really safe at all. I tried buying some plastic reusable water bottles, but again, I just don't like plastic.
A few months ago I purchased an aluminum water bottle from a seller on eBay and it worked for a while. However, my daughter didn't like the way the water tasted after sitting in the bottle all day at school. The other drawback of this choice was that it was pretty expensive, so when we lost the lid I was really frustrated.
It occurred to me that perhaps glass bottles might be the answer. Glass has proven to be safe for years and it's recyclable (if you don't live in the little tiny town where I am.)
So, yesterday when we went to Wal-Mart, I bought four 20 ounce glass bottles of SOBE green tea. I think they were $1.48 each. I'm not advertising for SOBE here, it was just the only drink in a glass bottle with a screw-on cap that I could find. Yesterday we drank three of the bottles of green tea so I washed them thoroughly, and removed the circle of plastic from the inside of the cap. I'm planning to buy a baby bottle brush to make washing them easier, since I don't have a dishwasher.
Today I decided to fill them up with water and take pictures for this post. If you like the tap water in your home, the least expensive option would be to fill the bottles from the faucet. However, I live in an old house with lead pipes, so I try not to drink the water if I can help it. So, I grabbed a 6-pack beer carrier to help me carry the bottles. This seemed like the easiest and safest way to carry them. If you don't drink beer, I'm sure you can get one from a friend or a store that sells beer. This beer carrier happens be from Miller Lite, which again, I'm not trying to advertise in any way.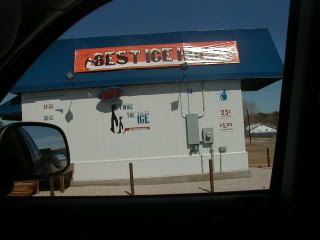 I drove to the cheapest place to get water in town. You can get one gallon for 25 cents, or 5 gallons for $1. Since I only had three 20 ounce bottles I only needed 1/2 gallon, so I ended up wasting water. OOPS!
Here are my glass bottles waiting to be filled. Since I had to switch the bottles when one got full, I had to leave the little door open and I got some water on my shoes, but that's OK.
Today, I went to our local grocery store because they have some glass bottles of tea for $1 each. They hold a little less; 17 ounces. At any rate, the cheapest I've been able to find bottled water in the 16 ounce plastic water bottles is $5 for 24 bottles. This is exactly 3 gallons of water, and a lot of plastic. So, instead of paying $5 for 3 gallons of water, I'm paying 75 cents. That's a savings of $4.25, or $1.41 cents for each gallon. In all, I've paid $11 for glass bottles. Therefore, after I the first 8 gallons of water that I purchase and use this way INSTEAD of buying plastic bottles of water, the glass bottles will have had paid for themselves. I just have to be careful not to break them or lose the lids!
<<< Go back to Work at Home Blog Directory
If you have any comments regarding the contents of this page, please send them using the form below:
Your email address will be adding to our mailing list
You will be directed to a comment sent confirmed page. Please click your browser's back button to return to Home Jobs For Mom. Your comment will be posted after approval. Thanks!